A CLASSIC SOLUTION FOR YOUR OUTDOOR STORAGE NEEDS
Few structures can help transform the land behind your house into your dream backyard quite like a classic mini barn from Barnyard Utility Buildings. Do you need an aesthetically pleasing building with plenty of room to store your lawn and garden equipment, tools, sports gear, or firewood? Perhaps, you are even looking for a small- to medium-sized building in which you can house small animals to protect them from the elements.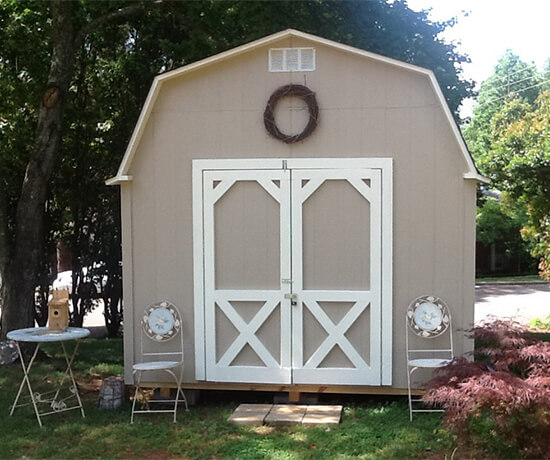 WE BUILD OUR CHARLOTTE BARNS ON-SITE!
In addition to having Barnyard Utility Buildings customize your mini barn design, you can also have the barn built on-site at your home or property. You can watch your mini barn in Charlotte, NC be built from the bottom up, meaning that you can be part of the process from step one through building completion. You can watch our trusted team build the base, level the base, put down the floor decking, put up the walls, and construct and shingle the roof.

Another benefit of having a mini barn built on-site at your home is that your structure avoids being pelted by wind on the highway, which preserves the new barn's overall look and sturdiness. Strong winds on the highway can loosen shingles on the roof, and add unnecessary wear and tear to your outdoor storage building.

Along with preserving your new building by avoiding highway winds, it is easier for our team to construct one of our Charlotte mini barns on-site at your home if you have a fenced-in yard or other existing impeding structures. Instead of using large equipment to maneuver a larger-size mini barn over the fence, we can simply carry all of the necessary building materials right into your backyard with ease.
READY TO ORDER YOUR MINI BARN?
It is time to stop spending money on an expensive, off-site storage unit or holding off on your dream to transform your backyard or property. Investing in a mini barn in Charlotte, North Carolina saves you money in the long run, and allows you to create a custom-designed storage building that brings your backyard to life.

All of our mini barns come with a 5-year workmanship warranty plus various manufacturers' warranties. The 5-year workmanship warranty alone guarantees that we will repairyour mini barn for up to five years after your original purchase if some part of your structure needs fixed. Barnyard Utility Buildings will send one of our trusted team members to your home to complete the necessary work.

If you would like more information on our mini barns or other products and services, please email our team or give us a call today!
CUSTOMIZABLE MINI BARN OPTIONS
Our mini barns in Charlotte, NC are based on classic barn-style buildings, which are characterized by a four-sided roofline. They are visually pleasing storage buildings that work perfectly in subdivisions and neighborhoods, and they can help you create the backyard that you have always envisioned.
Mini barns are superior storage buildings in comparison to regular, standard-grade sheds. Our mini barns in Charlotte, NC come in floor sizes ranging from 8' x 8' to 16' x 24', and have taller sidewalls than most storage structures. These taller sidewalls allow you to add lofts in your mini barn, which gives you extra room for storage or aesthetics.
Not only can you add lofts to any of our Charlotte mini barns, but you can also order an attic loft with stairs if you decide to purchase our 16'-wide model, which doubles your storage capacity. This additional attic space is the perfect place to store your holiday decorations, seasonal clothing, winter sports gear, and camping equipment! This attic space can also serve as a fun add-on to a larger-scale children's playhouse. The possibilities are endless!
Along with our wide variety of building sizes, our mini barns in Charlotte, NC can also be further customized according to your specific storage and entertainment needs, and to make your vision for your backyard come to life. The trusted team at Barnyard Utility Buildings can help you design your own structure by letting you choose from a range of add-ons like porches, lean-to roofs, doors, and wood, vinyl, or metal siding.
If you are looking for extra space where you can sit outside and enjoy a morning sunrise with a cup of coffee or tea, then a customizable porch option may be just what you need.
If you want a covered space for outdoor dining, lean-to roofs are ideal.
These porches, lean-to roofs, and mini barns are all built from the same materials that are utilized when building a house. This means that our mini barns, from the foundation to the roof, are incredibly durable. We construct our mini barns in Charlotte using high-quality lumber, siding, and algae-resistant shingles that are generally used for home construction because we believe that our products should withstand the test of time.
Instead of using a high-volume building process with standard-grade materials that leave customers with a mini barn that is in disrepair after two years, Barnyard Utility Buildings uses top-of-the-line materials that ensure your structure's sturdiness for years to come.