CUSTOM BUILDINGS, STORAGE SHEDS, UTILITY SHEDS AND CARPORTS
Barnyard Utility Buildings is the trusted source in the Carolinas for outdoor storage buildings. Our business has served the Carolinas for over twenty years by designing, building, and offering our customers top-of-the-line outdoor storage buildings, utility sheds, mini barns, metal carports, and other wood construction buildings made from high-quality materials and built to last.

What makes our storage sheds and buildings different from our competitors? Barnyard uses engineers' designs to ensure the sturdiest structures on the market. We use a concrete-block base for our wood construction buildings, followed by pressure treating each structure's floor joists to make them pest- and decay-resistant.

Once the wooden storage sheds' bases and floors have been completed, we construct the walls, which are made from the same materials that are used to build houses. Why is this important? The construction-grade wood and vinyl siding are weather-resistant, and offer your storage shed the same protection as your home. You can have peace of mind knowing that items housed in your outdoor storage building will not be damaged by rain or snow and that your structure will hold up for years to come.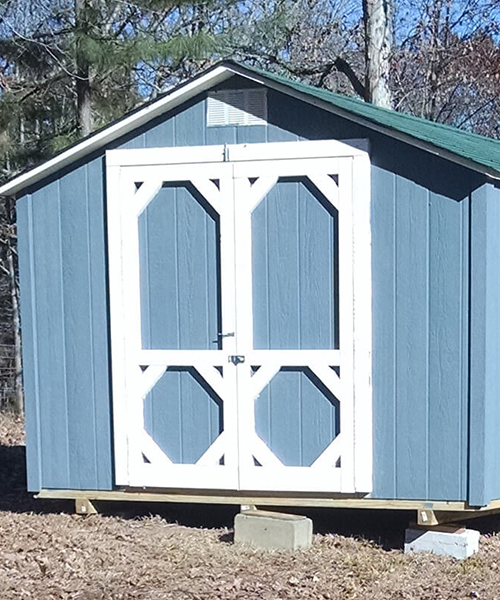 FOR EVERY NEED, THERE IS A BARNYARD UTILITY BUILDING FOR YOU!
"We just want to thank you and tell you what a pleasure it was to do business with you. We will certainly recommend Barnyard to our friends."

"Thank you again for treating us so fairly and professionally."

"Your company did an excellent job and your contractors were very professional."

"The men did a great job and had a good work ethic. Thank You."

"Your builder did a fantastic job and I am very pleased."

"We are very happy with our mini barn. It was a good value for the price and is exactly what we wanted."

"Your company is very professional and I will recommend you to my friends."

"I'm ecstatic! I would recommend your company anytime"

"I am very happy and the builder did an excellent job!"

"The contractor that you sent was great. He asked for our opinion and did a fantastic job cleaning up his mess."

"It has been a pleasure doing business with Barnyard. The guys did a great job. I wish that you could see it!"