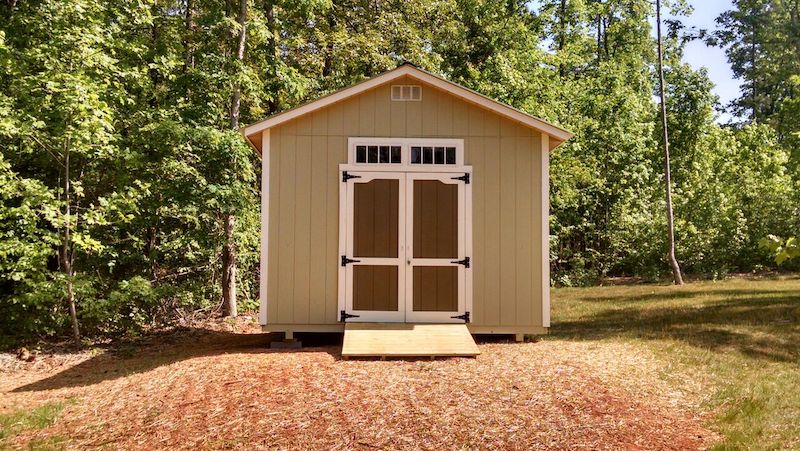 How to transform your backyard with an outodoor storage building
April 4, 2018
Finding the right shed to fit your yard—and, more importantly, your storage needs—can be fun! You will, however, need to take care with the pre-installation process. Likely, your yard has some obstacles. Between obstructions, holes, hills and valleys, targeting the perfect installation area can be tough.
To prep your yard for a storage building installation, check out the following tips.
Tip One: Find a Level Area
First, you'll need to target a level area which is free from standing water. The area should be relatively free from hills and valleys, too, so as to provide a level foundation for your shed. Remember: Your shed should still serve as a focal point in your yard. If possible, target an area in close proximity to your garden and nearby property entries or exits.
Tip Two: Have the Area Verified
It's a good idea to contact a zoning and building inspector, too. The installation site should meet the property's code requirements. As stated above, you should pick an area free from standing water. Put in some extra effort, and make sure the area won't collect water, either. If your shed's foundation is near a hill, it may collect runoff water. Its foundation, over time, may suffer from saturated dirt, sand, root-work and grass.
Tip Three: Consider Getting the Area Leveled
Sometimes, a perfectly level area isn't available. This is okay, as most yards aren't perfectly shaped. If you're unable to find a level surface, consider getting the ground cleared of obstructions by having it leveled. When an area is professionally leveled, any installed foundations will benefit from a long-term, secure environment.
Tip Four: Mark Where the Shed Will Be Located
Barnyard Utility Buildings will provide the cylinder blocks upon installation of your new outdoor building, but you should mark where the shed will be located prior to installation. Use a tape measure to mark the shed's exact size. Then, mark the four shed corners with paint, or wooden stakes, to show the location of the shed.
Tip Five: Check for Problems
Low Hanging Tree Limbs:
If tree limbs are hanging too low, then the limbs could get in the way of the construction process, which could cause delays in getting your outdoor building installed during the first attempt. The limbs could also rub on the roof of the storage shed and over time they could cause damage to the roof. All low hanging tree limbs near the shed location should be removed before the installers arrive, as a best practice.
Area Rubble:
Garden debris, dead leaves and even garden detritus can get in the way of a good installation. If the area has a lot of rubble, you'll need to clear it. It's a good idea to make sure the entire area is cleared before the installers arrive.
Weeds:
Weeds, surprisingly, can become a problem for your shed's foundation. As many avid gardeners and lawn care enthusiasts will tell you, weeds can be very destructive and troublesome if left unattended. This best practice also applies to prepping your yard for the installation of your outdoor storage shed, and it is a good idea to remove all weeds before the shed installers arrive.
Tip Six: Contact a Professional
You're done with the prep work! It's important to have the site prepped before installation ever begins, but small inconsistencies can be quickly handled.
Your budget comes first. You don't want to spend money on unnecessary repairs, so be ready to handle any debris, unlevel surfaces or weeds which get in the way. At the end of the day, your pre-installation goals should focus on safety and design security. If a shed's foundation is secure, the shed itself will provide decades of good use. Choose the location carefully, prep the surface and enjoy the benefits of an awesome outdoor shed.
When in doubt, contact Barnyard Utility Buildings for assistance. We've dedicated 20 years to our clients' storage sheds, and we're prepared to secure your outdoor shed's options. We want to make sure every storage building is perfectly installed, and we're capable of installing most outdoor sheds in Charlotte, NC. We have built a variety of storage sheds, utility buildings and storage buildings. Our personnel have tackled most projects, using a strong commitment to customer service, design ingenuity and care to create the best sheds around. Contact Barnyard Utility Buildings to transform your yard with an outdoor storage building!