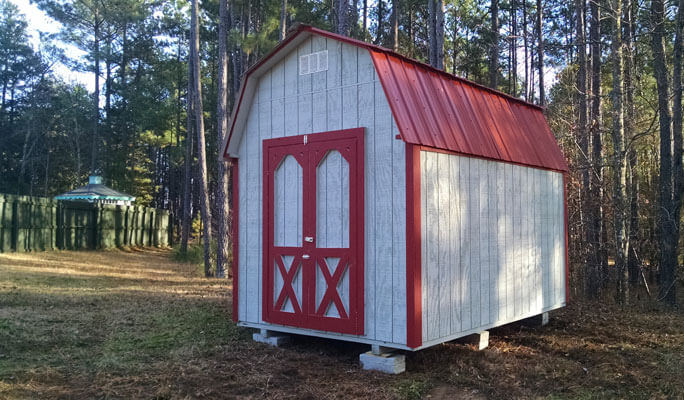 Utility Buildings Solutions: Why Carolinians Choose Barnyard
December 11, 2018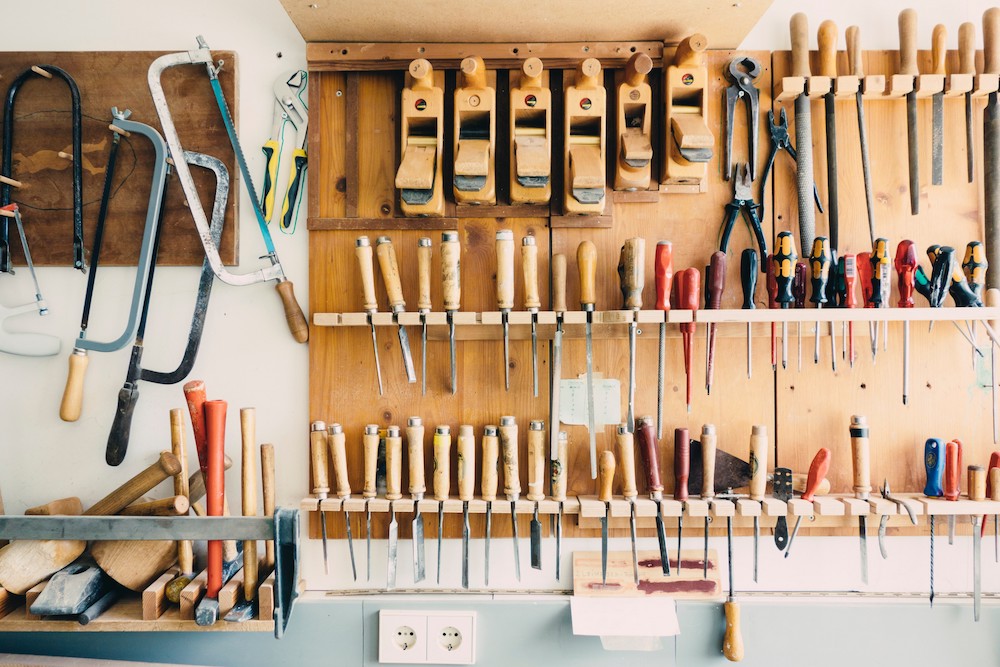 Storage is Our #1 New Year's Resolution: 9 tips for Organizing Your Utility Building
January 28, 2019
When you think of an outdoor storage shed, you probably think of the generic model that you see in most backyards: four walls, a roof, and neutral-colored siding. Although the basic backyard storage building is fine, there are other types of outdoor sheds in Charlotte, NC that you can purchase to add a little bit of flair and character to your property.
For example, an outdoor shed like a mini barn—complete with gables—is the perfect way to update your backyard aesthetic while providing you with extra room for storage. Not only can a mini barn provide you with more storage space for miscellaneous seasonal decorations, sports gear, and lawn and garden equipment, but it can also serve as a playhouse for your children, a man cave or she shed, a home for your smaller farm animals, and even a focal point for your dream backyard garden.
Why Update Your Backyard Storage Shed to A Mini Barn?
Maybe your old Charlotte, North Carolina shed is falling apart after ten or fifteen years of exposure to harsh weather. Perhaps your storage needs have outgrown your current outdoor shed, and you do not want to pay for a rental storage unit on the other side of town. You could even just simply be tired of looking out into your backyard and seeing your storage shed's exterior that does not match up with your design tastes.
If any of these scenarios sound like one that you are in, then it is time to upgrade your shed in Charlotte, NC to a mini barn from Barnyard Utility Buildings. We offer customizable mini barns that are made from construction-grade materials, which ensures that your shed will be able to withstand the tests of time and weather for years to come.
Along with constructing our mini barns using high-quality building materials like pressure-treated floor joists that are both pest and decay-resistant, LP SmartSide siding from Louisiana Pacific, and twenty-five-year algae resistant shingles from Owens Corning, Barnyard Utility Buildings also offers our customers many different size options when picking out and purchasing a new shed. Our mini barn sizes range from 8' x 8' to 16' x 24', and come standard with higher sidewalls than other outdoor storage buildings.
Although we advertise these standard-sized mini barns, Barnyard Utility Buildings can also customize your shed to meet your exact design specifications. If you bring in blueprints, or even just the specific mini barn dimensions that you desire, one of our on-site professionals can work with you to create an outdoor shed that accommodates your storage and recreation needs.
Not only can you customize the size of your mini barn that is going to replace your old shed, but you can also personalize your new mini barn siding and roof. Many of us live in neighborhoods where backyard storage structures are required to have exteriors that match the style of homes in the community, and it can oftentimes be tough to find sheds in Charlotte, NC that coordinate well with neighborhood styles.
However, when you replace your old backyard storage structure with a mini barn, you can choose your preferred type of siding, and can add on custom doors, windows, porches, and gables. A great addition to mini barns are gables—especially those in neighborhoods—because of the classic, timeless element that they give to your outdoor storage structure.
Benefits of Gables for Sheds in Charlotte, NC
You have probably heard of gables before, but perhaps you are unfamiliar with what they look like, and how they add value and character to your shed. When you upgrade your outdoor storage building to a mini barn, you can add gables that match your current style or neighborhood home exterior requirements.
Gables are generally recognized as A-frame rooflines, and they can add a touch of flair and sophistication to your outdoor shed. The steep-pitched rooflines that gables provide are incredibly similar to rooflines on houses, which allows your new mini barn to perfectly coordinate with your home's exterior. Barnyard Utility Buildings can even customize your outdoor storage structure's gables depending on your desired roof pitch, and the number of gables that you would like on your shed.
In addition to giving your mini barn traditional elements of style and character, gables can also add value to your property. If there ever comes a time when you are trying to sell your home, a well-designed, high-quality mini barn can add value to potential buyers, and incentivize these prospective property owners to make offers because of the stylish, roomy bonus space.
Tearing Down and Disposing of Your Old Outdoor Shed
Once you have decided to upgrade your old shed in Charlotte, NC to a new, customizable mini barn from Barnyard Utility Buildings, there is one question that remains: "How do I demolish and get rid of my existing backyard storage building?"
The answer is actually quite simple. Not only does Barnyard Utility Buildings create unique mini barns with available upgrades like gables, porches, and custom doors and windows, but we also offer storage building tear down and disposal services.
If you have an outdated or unwanted storage building that needs to be torn down and hauled away in order for your new shed or mini barn to be installed, we can dispatch a crew to your property to demolish and remove the existing storage structure. Our team carefully tears down your old shed, and properly hauls away and disposes of the remnants—saving you the hard work and hassle.
Ready to Upgrade Your Existing Outdoor Shed to a Different Type of Storage Building?
Updating your outdoor shed in Charlotte, NC is a simple process when you decide to purchase a new mini barn from Barnyard Utility Buildings. For over twenty years, our team has helped customers in and around the Charlotte metro area create backyard storage structures that meet their exact design specifications and desires.
Along with designing and constructing top-of-the-line storage structures, we also offer customers the added bonus of building tear down and disposal services, which makes getting rid of your old outdoor shed simple. If you are ready to upgrade your outdoor shed to a durable, high-quality mini barn, give one of our team members a call today, and we can get the process started!